The software I use is the highly popular MMSTV by Mako Mori. The software is free and runs in Windows, using the PC soundcard for SSTV input and output. The software supports all the common SSTV modes such as Martin, Scottie, and Robot. MMSSTV also includes more specialised systems such as high definition, and experimental narrow bandwidth modes.
The image below is an example of four SSTV pictures I received during a QSO with YO2MFZ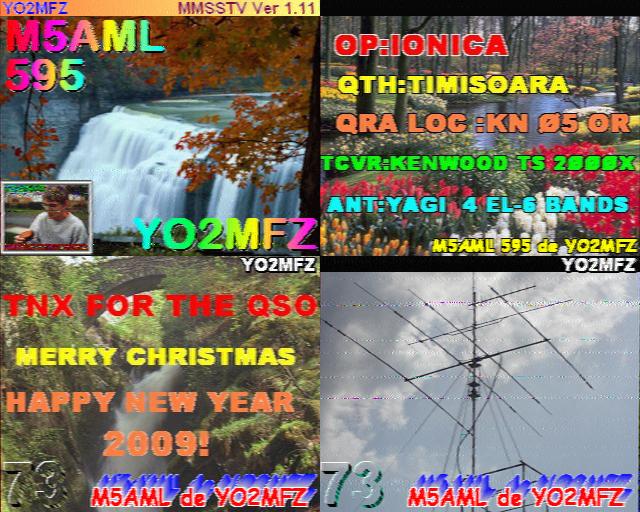 Each picture is 320 x 256 pixels - not high quality but a good trade-off between picture resolution and transmission time

As mentioned above, higher resolution SSTV modes are supported by MMSSTV but they are rarely used. Traditionally Martin 1 and Martin 2 modes are usually used by European stations and Scottie 1 and Scottie 2 are used by North American and Asian stations. It doesn't really matter which you use as long as you use the same mode as the other station(s) in your QSO - this is basic SSTV etiquette.
In multipath conditions Martin and Scottie modes do not perform well so it is better to use the MP or SC2 modes on 80m at night. SC2 120 and SC2 180 are the most popular multipath tolerant modes.
Due to the small size of the WARC bands (30m, 17m and 12m) narrow bandwidth SSTV (N-SSTV) is recommended for use on those bands.
Common SSTV frequencies in Europe are 3.730MHz, 7.165, 14.224 to 14.239MHz, 21.334 to 21.346MHz, 28.680MHz +/-. SSTV has also been heard at the top end of 20m and 17m. Sadly the 3.781MHz daily SSTV weather net has moved to DRM and the pictures have a fuzziness caused by excessive .jp2 compression. On HF, SSTV should be transmitted in LSB on frequencies below 10MHz and in USB above 10MHz - the same as voice. On 2m frequencies between 144.500 and 144.600MHz FM are used in UK and can be quite busy at times in the English Midlands.
The latest version of MMSSTV can be downloaded from the web site
HERE
.
N-SSTV Group (Narrow SSTV) web site
HERE
and on Facebook.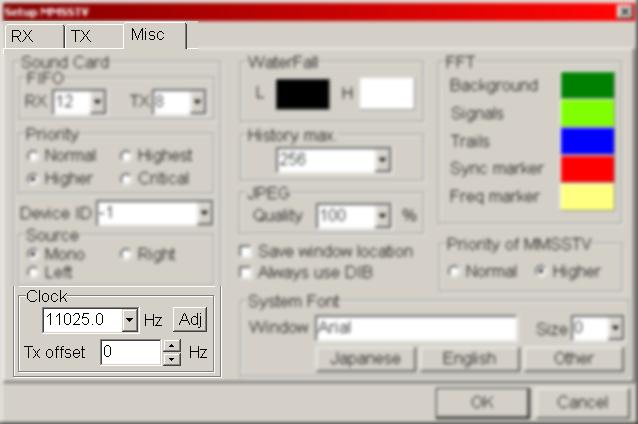 The irrelevant options have been blurred out to avoid confusion. You will see in the image above that the Clock has a frequency value and there is also a TX offset. Believe it or not some sound cards have slightly different output and input frequencies!
First we will set the receive (input) frequency of your sound card. Click on 'Adj' and another window will appear. Tune your receiver to a time station. In Europe RWM is really strong. Tune to 4.995MHz USB, 4.997MHz LSB, 9.995MHz USB or 9.997MHz LSB. You should be able to hear some 1kHz pips transmitted by RWM. If you hear a steady tone or CW then wait a few minutes and the pips should start. Make sure your receiver is connected to your PC's Line-in or Microphone socket.
After a short time a trace of white marks should appear in the window. These marks are the pips as received from RWM and should form a vertical line as shown below.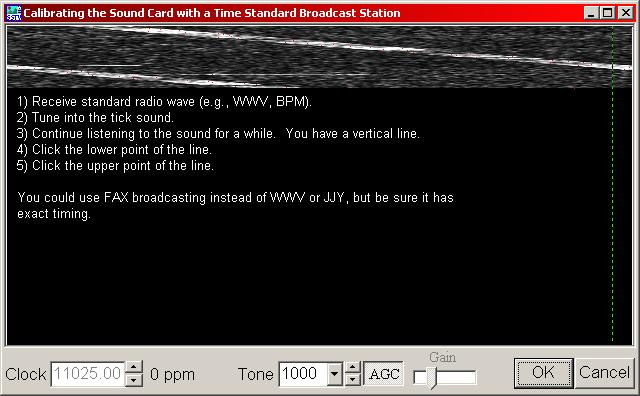 Your lines may not be as slanted as the those above or may even be slanted the opposite way - do not worry. When you have a good line of white click at the lower end of the white line preferably on the left or right edge of it. A thin line should appear which moves with the mouse pointer. Now click at the upper end of the white line so the thin line follows the same angle. Click on 'OK', the window will disappear and the Clock frequency will have changed.
Now click Adj again and expand the calibration window to full screen and repeat the above process. Making the window bigger helps you draw an accurate line. You will notice that the slant is less severe. Once you are happy that the received pips form a vertical trace in the calibration window click 'OK'. The sound card input frequency is now calibrated.
Now it is time to calibrate the sound card output! Click on the 'TX' tab to show the window below.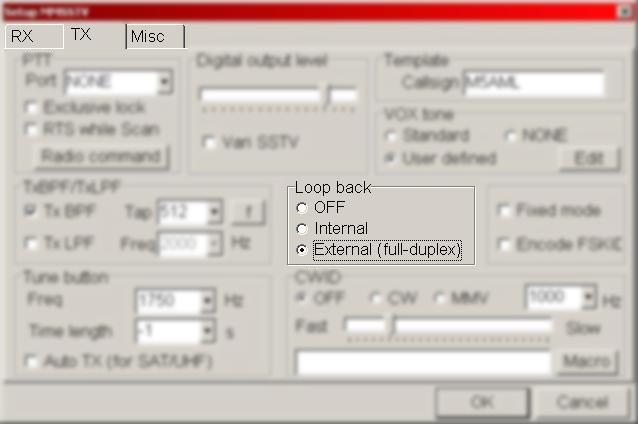 Under 'Loop back' click on 'External (full-duplex)'. This means that your sound card's input and output will work at the same time. Click 'OK' to take you back to the main MMSSTV window. Connect you sound card's output to its input using a suitable lead, i.e. Headphones to either Microphone or Line-in.
Now select Martin 1 as your TX Mode and click 'TX' so that you are in effect sending an SSTV picture back to your own computer. Once the picture has been sent click on the 'Sync' tab as shown below. In this example I sent a blank picture just to make the sync signal obvious.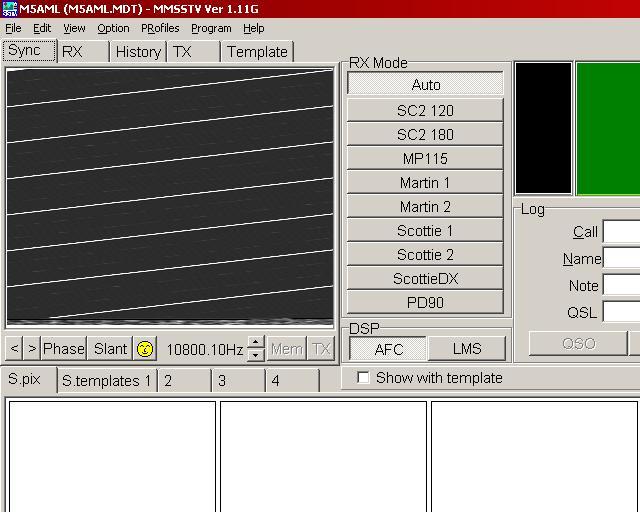 You may notice that the sync lines are not vertical at all. Even if they are vertical go through these steps anyway.
Click on the yellow smiley face button and the sync lines should become vertical as shown below.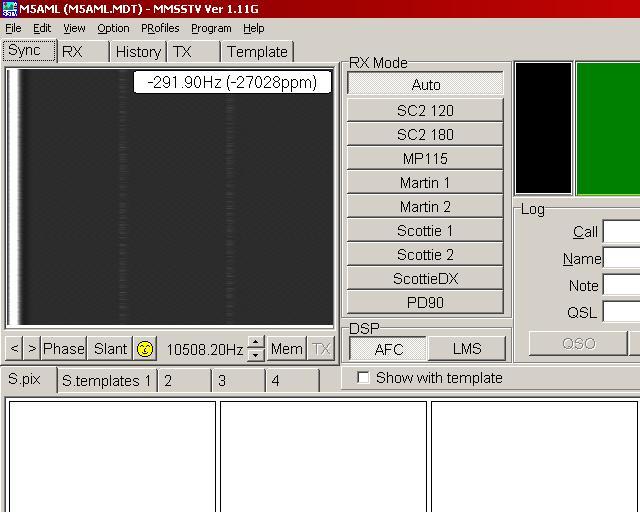 Now click on the 'TX' button which is to the right of the 'Mem' button. Your TX offset is now set. Just go back into 'Option', 'Setup MMSSTV' then click on the 'TX' tab to set your Loop back setting to OFF. Your sound card is now calibrated to transmit good slant-free images.
Now you have calibrated your sound card you will transmit nice vertical images but you may still receive slanted images. This is due to the other station not having set his sound card up properly. So until the entire SSTV fraternity have been educated in slant-free SSTV, use the MMSSTV automatic slant correction and tell the other station they have SLANT!